We've talked a lot recently about collaboration and multi-user editing on shared company documents. But depending on your organization's size and structure, you may be looking for a more mature approach.
For example: say the Sales team uses a lead-tracking template every day, and decides to make some edits to it. But which member is authorized to make the change? Where does the old version go? Do other departments use the info that's been deleted or added? How will you communicate the change? And finally, are any of these considerations baked into your policies, or do they just happen when you remember to do them?
As a company grows, it becomes less flexible. Changes that were easy and quick to implement on a team of 20 suddenly cause ripple effects now that your team has doubled, tripled, or more. Mytech is deeply familiar with that experience: we started as just four people and have now grown to a team of over 80, across offices in multiple states.
Improvised, ad hoc policy changes are a thing of the past for us, and we've learned how to adapt to a more scalable solution for managing those changes. In this article, we'll look at how you can do the same.
The Change Advisory Board
First an explanation of this article's core term, the Change Advisory Board (CAB). It's exactly what it sounds like: a group of team members who evaluate proposed changes to your process – regardless of department – then tweak, implement, and announce the approved changes.
CABs aren't a Mytech concept: they come from an organization called ITIL, a major player in IT service management since the 1980s. A Change Advisory Board prevents confusion and lost productivity, by thinking through a proposed change to consider how it would affect everyone involved. Adding or removing info is tricky when your team is interconnected, and managing that process ensures a smooth flow.
If you think that implementing a CAB would be the right move for your team, this article will take you through the big questions to ask. The bigger your organization is, the more robust your CAB solution will need to be, so these guiding principles can help you determine the process that best fits your company philosophy.
Step 1: Define your subject matter experts
Every major process at your company that's subject to change needs its own Change Advisory Board, and those boards will need people who know the subject matter from a variety of perspectives. Client Engagement, for instance, affects the Sales team, the Marketing team, and Operations as well, and you need experts to represent each of those teams in any changes to the process.
For instance, say the Sales team always gathers Info XYZ from each client during onboarding, but stopped using that info for sales functions a few months ago. Info XYZ is labor-intensive to collect, so the Sales team sees an opportunity to remove busy work. However, Info XYZ is still critical for the Operations team's functions. If someone from Operations isn't on the CAB for Client Engagement, that change could cause major disruptions down the line.
RACI – Responsible, Accountable, Consult, Inform
To determine who's necessary on each CAB, Mytech uses a model known as RACI. This is a clear way to define everyone involved in the process, from "most critical" to "keep updated".
Responsible denotes a key member who should always be involved. We require at least 2 members to be designated as Responsible.
Accountable denotes the single most important member, who takes ownership of the process.
Consult denotes a member who isn't a key decision-maker, but should be consulted on any changes due to their unique insight.
Inform denotes everyone else, on all affected teams. When you finalize and publish your changes, everyone on these teams must be notified. For more on that process, see Step 4: Publishing Changes.
Below is an example screenshot of the document we use to define CAB team members: you can see the different member columns arranged by priority. Click the image to download as a template Excel file you can use for structuring your own CABs!

Step 2: Prescribe your method for change management
Once you have your CAB team for a given subject matter, you need to establish what that subject matter's change management process will look like. This will involve questions like "What problem are we trying to solve?" and "What documentation will be affected?" plus more minor definitions of what IS and IS NOT a change request.
At Mytech, there are two documents we use to help us define and explain the answers to these questions for each proposed change. A CAB Team Guide is the main written policy for setting up processes and making changes: it's a Word doc we use to summarize the team's priorities, needs, and expectations. The other document is a One-Page Process Map: a flowchart that serves as a visual complement to the Word doc, and demonstrates a proposed change's path through the system.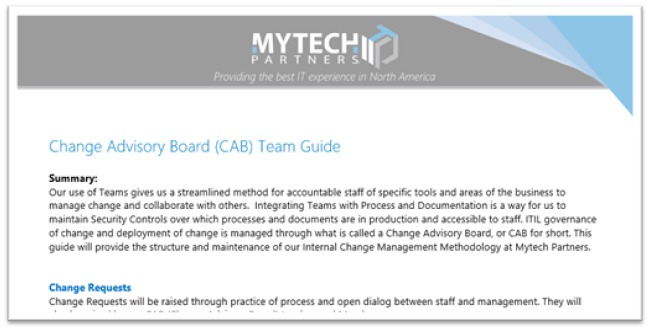 CAB Team Guide (click image to download as a template)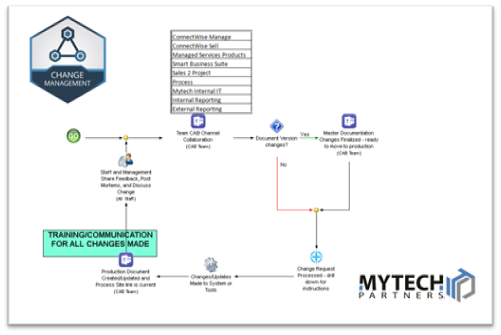 One-Page Process Map (click image to download pdf example)
This might feel like a lot of steps, a lot of policies, and a lot of documents when you could just say "Don't change HR docs without asking Nancy and Jamar." But remember, you're here because you wanted an advanced solution for your expanding team! In order to keep your processes easy to reproduce as your company grows, it's crucial to create a mechanism that's straightforward to use while still covering all of your bases – both old and new.
Step 3: Create a collaboration space for CAB members
Now that you've established your CAB team and your policies, you need to establish a workspace.
Although this might differ based on your given solution, Mytech has seen great success using Microsoft Teams. The ability to include employees in different teams & channels, and the ability to create private channels, offers two different ways of structuring your CAB workspace.
Option A: Change Advisory Board team
If you want to keep everyone's CAB work and mental energy in one place, creating a designated CAB team within Microsoft Teams is a good way to do it. From there you can create channels for each separate process.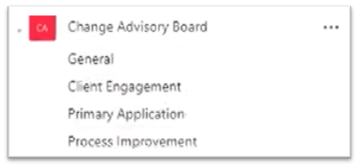 Within each channel, that subject matter's CAB team will now have a designated space to collaborate and update documents (more on how they can collaborate in the sub-section "Comments and sign-off" below).
Putting all CAB work in a single team means being able to collaborate across multiple departments. Having a team that includes all managers will allow you to quickly involve any leadership you need to.
However, the disadvantage is an inability to restrict access. If everything is in the same Change Advisory Board team, you won't be able to control which manager can see each channel. Whether or not that's a transparency/privacy problem is a question for your organizational structure.
Option B: Change Advisory Board private channel
You can also spread your CAB teams out to each department or process, nested as channels within other team structures.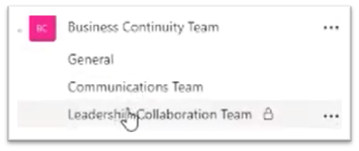 This approach makes use of the Private Channels feature to ensure that these discussions are only visible to selected members instead of the entire team – which can prevent confusion about changes that haven't even been finalized, much less published!
This keeps the CAB in the same "headspace" as the rest of this topic: the Sales process review is right next to all other Sales communications, for instance. It also helps you to keep information on a need-to-know basis in some regards, since it will be team-specific info except for any outsiders on the board.
The downside, of course, is that members have to belong to the parent Team, so this could clutter somebody's feed. This is a fairly minor issue that you can solve with features like "hide" (explained in our session 3 Tools to Improve Work from Home), but it's always important to manage your team's notifications so their attention isn't diverted excessively.
Comments and sign-off
For the actual collaboration within a given channel, you'll want to rely on the same tools that you've likely already been using in Teams, SharePoint, and One-Drive. We have several other Virtual Sessions and articles that delve into the nitty-gritty of document collaboration, but there are a couple of functions that are particularly useful for CAB needs.
The first function is Comments, a feature in many Microsoft 365 apps, that allows for multiple users to comment and propose changes to a document. The second is "request sign-off", which is a great endpoint to build into your change approval process. Just by clicking Automate in either a file's breadcrumbs or the SharePoint toolbar, you can access an option to automatically send the file to everyone involved in the approval process.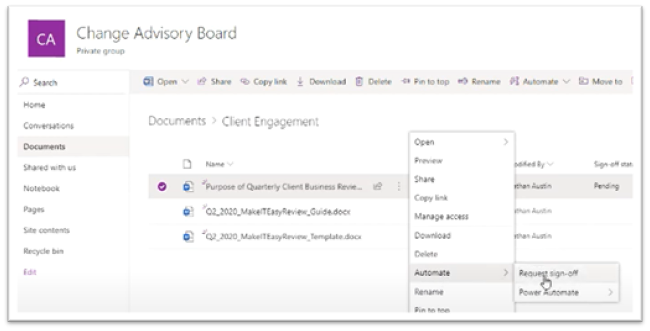 Although Microsoft 365's automated tools are only available directly in SharePoint rather than Teams, they're well worth going the extra step. Making full use of the "request sign-off" or Power Automate functions is a great way to streamline your approval processes. As team members approve the document, you can fine-tune the automated processes for a host of functions, like publishing as a pdf, notifying additional team members, and more!
Step 4: Publishing & communicating changes to your team
By making full use of Power Automate, in fact, you also can quickly inform the rest of your non-CAB team.
Having an established process for publishing is important. When you make policy changes, it's far too easy to tell yourself "I'll tell everyone at the weekly meeting." But far too often, those reminders slip through the cracks while you're trying to remember everything else you have going on. That's where Power Automate can shine, and why you should consider learning how to Create a flow.

Although automation between your different Microsoft 365 apps and company SharePoint might sound intimidating, you don't have to be a programmer to put it to quick use. There are a host of simple tools you can build quickly, like "Send an email" or "Publish to SharePoint folder", that can seamlessly integrate with your Teams and SharePoint structures.
For instance, in the example below we've created a flow that automatically emails affected team members whenever a file is created in a certain folder. By implementing this flow once, you ensure that you'll never have to remember a change-notification email again – just upload the file and the flow will handle the rest.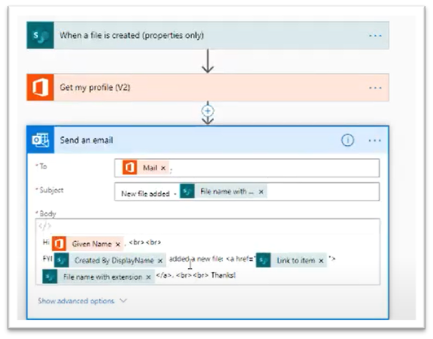 Use what works for you...but use
something

!

Whichever method and automation tools you use, we hope this article has demonstrated the value of having a process in place for your change management. Microsoft 365 has incredibly powerful tools for organizations of all sizes, and knowing how to use those tools effectively can help you stay consistent as your business (and staff roster) grows!

Of course, we're all figuring things out together as our businesses grow and change. We're constantly revising our own process at Mytech, and we're happy to share the lessons we've learned with our clients. In a changing tech landscape, keeping you up to date is a cornerstone of our commitment to Make IT Easy.